Bob Dylan once said, "Inspiration is hard to come by. You have to take it where you find it." Luckily, inspiration can be found just about anywhere these days, even in the deepest, weirdest bowels of the internet, where we assume most internet memes are made. Most of us have no freakin' idea who makes the memes we so frequently enjoy, but we are certainly indebted to them.Among the gigantic mass of memes available, fashion memes have emerged as some of the funniest. But, have you ever thought of drawing some actual #OOTD inspo from them? Don't worry if you haven't, because we've done it for you (you're welcome). Take a gander at some of our fashion GIF-inspired outfit ideas below, and feel free to use them for your own looks!
Heads and Paws Above Y'all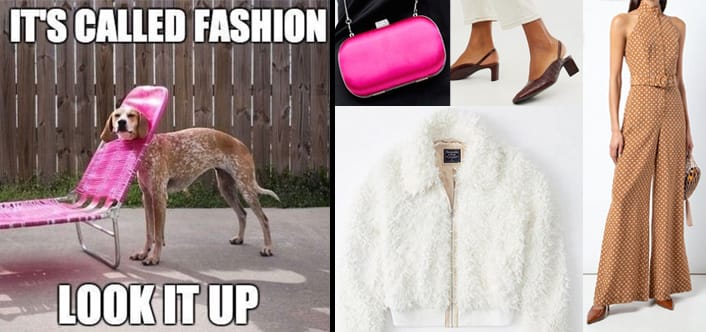 Okay, so, a lounge chair around the neck isn't the most functional accessory
per se
, but this doggie isn't afraid to mix light brown with pink in her OOTD and we love her for it. No matter the neutral, you can always add a brief pop of color to spice things up. In this case, we went with a poppin' pink clutch. For the brown, we went with a snazzy brown spotted jumpsuit. When the brown and pink are then paired with a unifying white fur bomber and no-nonsense dark brown slingbacks, it really makes our tails wag at this innovative fresh fashion styling.
Don't Be An Animal!!!!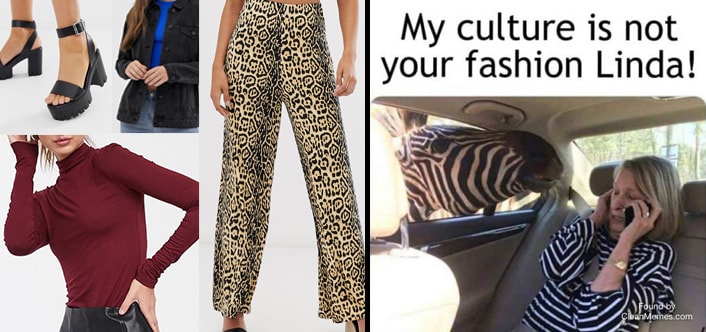 Honestly, the way some people use and abuse animal print is kinda criminal (and don't even get us started on
real
animal fur, tsk tsk). Zebras, snakes, and even cows have every right to be pissed when humans can't pull off their prints correctly! Leopard print might be the hardest/most intimidating for folks, so let's talk through how to werk some leopard print wide leg pants. You could go the safe route with a black top, but who wants safe?! This fashion meme goes deep burgundy, baby! Plus, a modest turtleneck is the yin to the leopard print's yang. Complete the look with an oversized black denim jacket and chunky heels, and then you'll officially be the queen of the jungle.
Attn: Lay-Z-Girls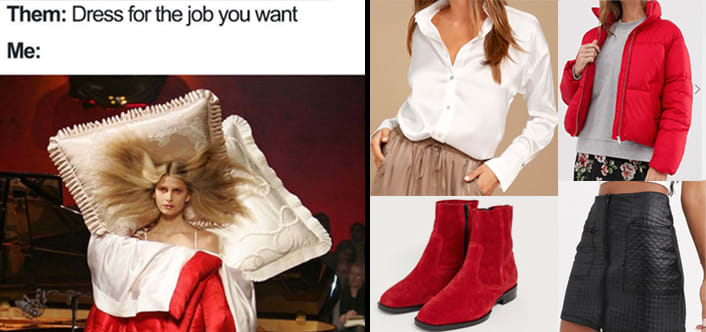 Wouldn't it be nice to get paid to sleep allllll dayyyyy looong? Well, snap out of it, hunny — the world don't work that way! However, you can certainly bring some comfy, bed-like texture into your OOTD without being labeled a bum. A quilted mini skirt is as close as a skirt can get to being cozy, and a white satin blouse evokes the same feeling as when you lie down on a satin pillowcase. Why not drive home the nap time vibes with a red puffer coat and textured red booties? Sure, it might be inspired by this snoozy meme, but this fresh fashion outfit will leave nobody yawning!
Prance, Pockets, Prance!!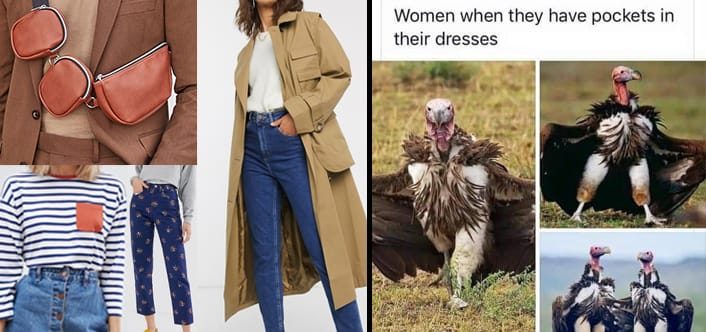 Not to shatter your world, but we're pretty sure most women's clothing lack pockets in order to fuel the purse industry. ¯_(ツ)_/¯. But, every once in a while, a dress or a pair of dress pants will have pockets and you'll finally feel ~SEEN~. As an ode to those coveted clothing cavities, this #OOTD has all-over pockets. On these printed floral jeans? Pockets. On this striped shirt? Pockets (plus, stripes and flowers make for A+ power-clashing). On this camel trench coat? Big ol' pockets. On this unisex fanny pack? SO. MANY. POCKETS. Maybe, if you wear this outfit enough, fashion companies will finally give women what they really want in their clothes (but don't hold your breath).
Sweater? I Don't Even Know Her!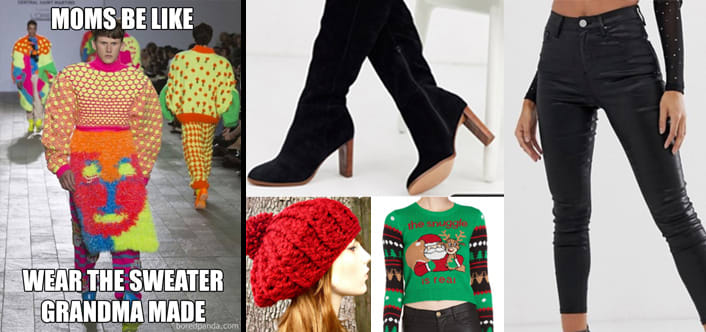 Look, it's not that we don't love our grandmas… it's just that sometimes the sweaters they knit make us want to crawl out of our own skin, y'know? But, the ugly sweater has seen a sort of renaissance in the recent past, and we're here to tell you exactly how to create a fresh fashion look one as a hero piece. First, even if the print is loud, you can lower the volume by making sure it's not a whole bunch of crazy colors; in this case, it's a palette of green, black, and red. Second, every other piece should be there to balance things out — high-rise coated black skinny jeans (for you to tuck your sweater into), suede knee-high boots (to bring some attention below the belt), and a poofy red hat (because ugly sweaters usually mean holiday time). With this look, your presence is a present.
Time Fur Some Action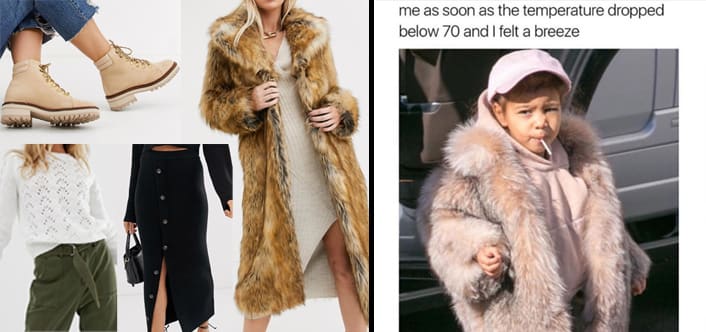 Praise be, sweater szn is upon us!! Now we can stunt all over town in our best faux fur without being told, "Ma'am, it's 80 degrees outside,"
as if we didn't already know that
. Even though your vintage-inspired full-length coat is the star of this outfit, you still gotta make sure that your OOTD underneath it is still fuego in an understated sort of way. Go for a form-fitting, button-front maxi skirt in black with a white knit sweater up top. Lace up some beige hiking boots, and you'll be made in the shade. And yes, we know it's colder in the shade,
that's the point
. GOSH!
Bring On The Puff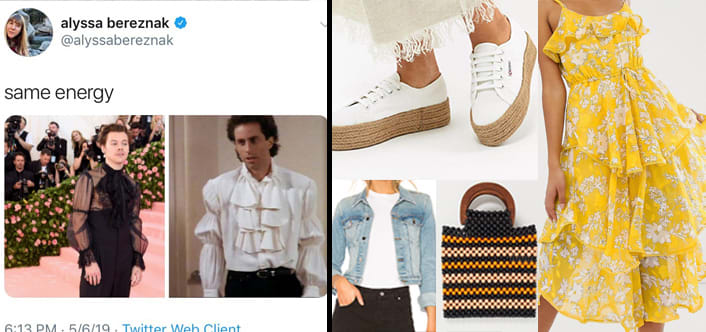 Ah, yes, the infamous "puffy shirt." Even if you weren't raised on Seinfeld, the mere sight of Jerry (and, in this case, Harry) in this get up is enough to make you smirk. No matter how objectively hot you are, or how famous or stylish, this type of shirt is A LOT to pull off as an OOTD. Though, there are ways of taking frills and wearing them in a way that won't make you look like an out-of-work pirate. For starters, take those layers and move 'em downstairs and put 'em on a dress. Then, throw in some pattern and color to make it less old-world-looking. Finish off the look with a light wash crop denim jacket, platform espadrille sneakers, and a beaded purse. Who's laughing now? (You
arrrr
!)
Oh, So This Picnic Isn't Black Tie?
Of course, it's always better to be overdressed than underdressed, but it still makes you feel like a real dingus when you do it. That's why it's imperative to have something universally flexible in your wardrobe — something you can dress up or down at a moment's notice as a solid OOTD option. We love nothing more than a jumpsuit that has a flattering structure in a solid color, which allows you to accessorize appropriately for wherever you're headed. This black wrap jumpsuit is just what the doctor ordered. Since we're inspired by this overdressed doggo, let's go the fancy route with a long, drape-y black duster, silver block heels, and a sparkly clutch. But, if you need something more low-key OOTD, swap in sneakers, a denim jacket, and a backpack. It's that easy!